Our Services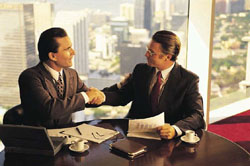 The guiding principle of Professional Retirement Services, Inc. has always been proactive, personalized and impeccable service.  We have established a reputation of trustworthiness in an industry that is in the midst of turmoil.  We are one of a small number of companies that offer personal semi-annual account reviews with each participant in our retirement plans.  We use these meetings to monitor each person's portfolio as well as the individual's evolving risk tolerance. 
Professional Retirement Services, Inc excels at identifying and implementing strategies to help you achieve your personal and business goals through qualified plans, as well as other investment solutions.  We work with you as a coach to provide comprehensive, personalized wealth management solutions. 
After evaluating your goals and risk tolerance, we can create a personalized investment plan that is in harmony with your financial objectives.  We believe that a long-term investment strategy offers the strongest potential for realizing your goals.  Long-term investing helps to minimize risk and allows for the selection of a sound asset allocation strategy.  Asset allocation does not guarantee against loss; it is a method used to help manage risk.